At Cleangreen, we know that an active lifestyle is a healthy one, and translates into healthy relationships with others, our immediate community, and the world. That's why we not only embrace healthy lifestyles, but promote it for those of all ages, especially children.
Since 2015, Cleangreen has teamed up with Cape Cod Sea Sports to form DEVO Cycling Cape Cod, a program aimed at offering mentorship and coaching to the next generation of cyclists.  Together, we are working to promote a lifestyle of fitness and exercise while instilling values necessary to building a good, decent, caring society.
Our approach is focused on the following core principles and values:
Good sportsmanship
Positive, productive approach to athletic development
Hard work, commitment, and dedication
Teamwork as the foundation for growth as individuals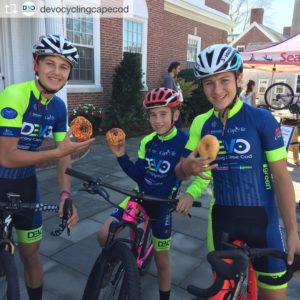 DEVO Cycling Cape Cod believes that the accessibility of our sport is of the utmost importance. To offer athletes and their families the opportunity to learn and grow through sport, the race team provides need-based support for members of the club, which includes a bike loan program; race fee reimbursement; and a clothing and uniform allowance.
In 2017, we added several new sponsors (listed below) that will allow our club to grow and expand, providing more opportunities for children to experience the joy of cycling. The same year we added to our roster of sponsors, Cleangreen expanded its commitment to DEVO Cycling Cape Cod by dedicating 10% of all new profits to the Junior Team.
"It became obvious that support and mentorship were needed to get more youth involved in the sport we all love, and we hope that the DEVO Cycling Cape Cod team will help to provide just that." – Jeff Craddock, Sea Sports
"We want to see more young people being active which is why we are so proud to be a part of an amazing program that promotes healthy choices." – Jitka Borowick, Cleangreen
LEARN MORE
DEVO Cycling Cape Cod Facebook Page
DEVO Cycling Cape Cod Instagram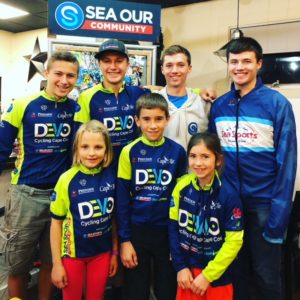 DEVO CYCLING CAPE COD SPONSORS
We are proud to call the following businesses and organizations sponsors of DEVO Cycling Cape Cod and for understanding the importance of promoting and supporting youth athletics.
Hyannis Main Street Business Improvement District 
John F. Kennedy Hyannis Museum